What are the types and playing methods of children's printing pads?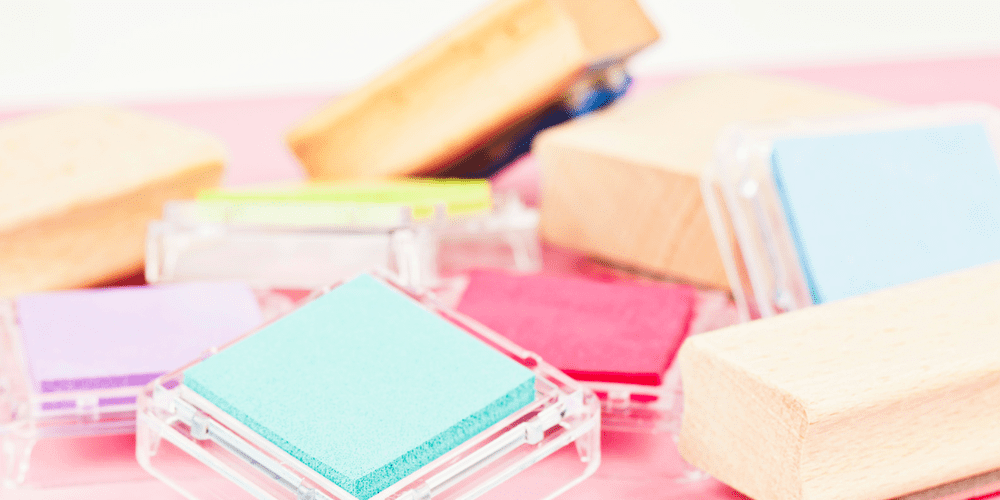 Children's printing pads are one of the most popular toys for children. They come in bright and rich colors, and are matched with different patterns of stamps and materials in life, allowing children to play almost all day long. There are various colors, formulas, materials and sizes of ink pads on the market, how to choose? What are the ways to play? Go ahead and read on!

What are the types of children's printing pads?
The types of children's ink pads can be distinguished by color, pigment properties, and size. Different types of ink pads also have different ways to play. We divide the types of printing pads into five categories, let's understand together.

Color pigment ink pad
Color pigment ink pads are one of the most common ink pads. They contain pigment inks and are loved by children for their sharp and clear patterns and bright colors. It has the advantage of being durable because it does not fade easily over time. It is usually used on various papers and fabrics, suitable for small stamps, and also suitable for finger prints.

▶Recommended product: Pigment Ink Pad



Large size ink pad
Large size children's stamp pads can also be called large stamp pads, larger than typical stamp pads, so more ink can be held on the stamp pad, very suitable for activities that require a lot of ink, can provide many children to use together, in addition to supply large stamp transfer It can also be used to cover palm prints and finger prints, which is suitable for various ways of playing.

▶Recommended product: Jumbo Ink Pad



Metallic Ink Pad
The images imprinted by metallic children's ink pads have a shiny metallic appearance, giving people a strong festive feeling. With carved text stamps and totem stamps, they are very suitable for use on festive greeting cards, such as: thank you cards, Christmas cards, Also suitable for adding decoration to scrapbooking, other paper products. Metallic ink pads are usually water-based and fade-resistant, maintaining their shiny appearance over time.

▶Recommended product: Metallic Color Ink Pad



Waterproof ink pad
Waterproof children's printing pad, the biggest feature is that when the ink touches water, the ink will not smudge. It is very suitable for handicrafts, paper, cloth, and wood materials that may touch water, and can permanently retain the beauty. If the pattern is directly pressed on the paper, it will have a quick-drying effect, so it is loved by many parents and children.

▶Recommended product: Waterproof Ink Pad



Washable ink pad
The biggest difference between the washable ink pad and the general ink pad is that the transfer pattern can be removed with water. This means that when children are playing, if they accidentally get the paint on their skin, clothes, or walls at home, they can be easily washed off with washing tools, soap, and a washing machine. Washable children's ink pads are ideal for younger children to play at home. The advantage is that they will not cause permanent stains and are very easy to clean.

▶Recommended product: Washable Ink Pad



How to play children's printing pad?
Fingerprints/palmprints
A beautiful creative painting, in addition to using colored pencils and colored pens, can also be completed with various media. Using children's stamps to stamp their own fingerprints and palm prints on the drawings is different from ordinary hand-painted pictures, which gives people a refreshing feeling and also stimulates children to create more and more different creations.

DIY works
Put all kinds of beautiful patterns, such as stars, hearts, animals and other stamps, on the blank color card, let it stand and dry quickly, cut out simple squares, triangles, hearts and other shapes, and then write your own mood Words or blessings can be made into a beautiful greeting card. Or you can print the pattern on a blank cloth bag to become a unique and exclusive handbag. Of course, there are still many ways to play DIY printing pads for children, and adults and children are free to think freely.

Early Childhood Teaching
Brightly colored patterns can stimulate children's visual senses, enhance children's curiosity about things, and stimulate their brains to think. Children's stamp pads are matched with stamps with themes of numbers, characters, geography, animals, etc., to cultivate children's hands-on ability in children's teaching, and also improve children's understanding and thinking ability.

< Further reading: How can teaching stamps help children?>

Children's Ink Pads Wholesale and Custom - Choose Sabmatt
Submatt is an expert in making ink pads. We offer a wide range of colorful children's ink pads, including washable ink pads, beautiful metallic color ink pads, and water-resistant ink pads. All sizes of ink pads have raised surfaces and can accommodate any shape and size. The stamps are suitable for fine inking, and present clear and bright colors and patterns on paper, fabrics and other materials, allowing children to express their creativity and enjoy the hands-on time.

Our Kids Ink Pads:
Color pigment ink pad: There are common and rare exclusive colors on the market, providing more color choices.
Washable Ink Pads: Our washable children's ink pads have an excellent inking surface and are suitable for stamps of any size.
Metallic Ink Pad: The shiny metallic color is very suitable for making holiday greeting cards and scrapbooks. The pads are designed to fit all stamp formats and can completely ink raised surfaces.
Waterproof ink pad: It has 7 colors, keeps the ink for a long time, and is also waterproof and non-toxic. Works great on stamps, wood, fabric, paper and more. Our unique stackable case allows people to store it and use it comfortably.

Summary
After reading the above, I believe you have understood all the general categories of children's printing pads and what are the ways to play them. You will find that the stamp pad and the seal are not only printed on blank paper, but can also be used to cover different paper products, cloth, and wood by using the difference in ink. Whether you are at work or at home and have the opportunity to accompany your children, I believe that the professional children's printing pads provided by Sabmatt will be the best playmates for your children. If you have any printing pad customization needs, welcome to contact us directly, our high-quality printing pads will definitely satisfy you.