The main points of choosing wooden toy wholesale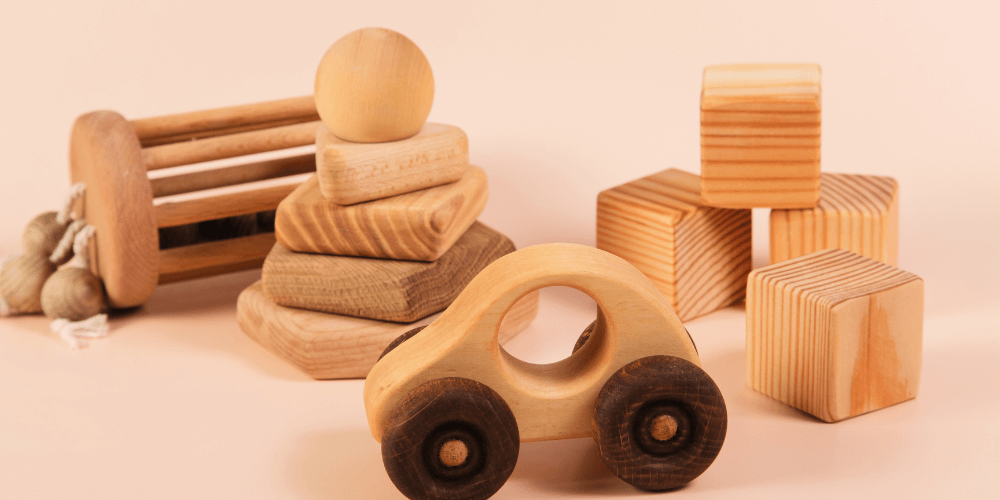 We are a manufacturer with many years of experience in producing toys. In this article, we will share the dos and don'ts of wholesaling wooden toys and teach you how to master the key points for selecting, targeting the entire toy market more accurately and finding high quality products. Please see the following introduction.
What kind of wooden toys are there in the market?
There are many kinds of wholesale wooden toys in the market. If you want to have a good sales performance, it is vital to select the products. Here are 4 common popular wooden toys:
Wooden music series:

The music series toys are in cute shapes, which are able to cultivate children's cognition of music and melody. Furthermore, they can also improve children's observation on sounds in life and arouse their curiosity by the stimulation of sound.


Wooden make-believe series:

Make-believe is one of children's favorite games. Through playing this series, children can start to observe the interaction of characters in life and realize the fun of role-playing. It is one of the classic choices in wooden toy wholesaling.


Wooden building block toys:

Building block toys are toys that many parents bought for their children. Children can use their imagination to stack different three-dimensional shapes and parents can also participate in their children's games.


Wooden puzzle toys:

In order to stimulate the brain, the toy design can promote children's creativity and logical thinking. Through the process of play, children can not only cultivate their thinking ability, but also learn to solve problems independently and gain a sense of achievement. .
〈More details:What are the key points for choosing wooden toys?〉
Which wooden toys should I purchase?
You can consider two main points regarding wooden toys wholesaling. First, how old is your target audience? Second, do you want to sell the toys for one-time purchase, or to attract customers to repurchase continuously? If your goal is the latter, then you can choose wooden toys which can inspire independent thinking, hand coordination and creativity so that children will be capable of growing up unconsciously while playing. Above are the influences that many parents hope toys could have on their children and this kind of toys have an opportunity to stand out from the era when children are all playing electronic products.
4 key points for the selection of wooden toy wholesaling
If you want to control the quality of wooden toy wholesale products, you have to take below critical points into consideration.
Ample production experiences: Toy manufacturers which have produced many different kinds of toys can better understand consumer's preferences and the details of toy manufacturing, so purchasing toys from manufacturers with ample toy production experiences is a certain guarantee.

Safety of materials: Product safety is not only to protect yourself from being complained, but also to protect the safety of consumers. It is the main point for the selection of wooden toy wholesaling.

Smooth appearances: There are flaws on wooden toys of poor quality when they are made. Rough surfaces and improperly trimmed corners may accidentally injure children. Therefore, we suggest that you should be careful about whether the appearance of the product is smooth when purchasing wooden toys.

Safety label: Having safety label is a basic condition which consumers care when buying toys, and it is also a guarantee that both the seller itself and parents can trust. Providing toy products that are safe enough to consumers is one of the critical elements for a brand's long-term operation.
Matters needing attention when cooperating with wooden toy wholesalers
In order to protect your own rights and interests, you have to keep below points in mind when choosing a wooden toy wholesaler.
Find a manufacturer with stable supply
If you want to maintain your business reputation, it is very important to find a wooden toy wholesaler with stable supply. Only with stable supply can you avoid shipments delayed to customers, and you can maintain the diversity of your own products at any time. In that case, losses will not be incurred due to your manufacturer's delay.
Check if the manufacturer has a good reputation
Reputation is essential for judging the quality of a wooden toy wholesaler. If the manufacturer has a good reputation, the collaboration between its wholesalers should be smooth and you do not have to worry about issues in the cooperation.
Provide complete after-sales service
It is inevitable that there will be defective products during the manufacturing process, so the quality of after-sales service is crucial. If your customers receive defective products but you are not able to obtain good after-sales service from the manufacturer, the loss will have to be absorbed by yourself.

What are the benefits of SabMatt's wooden toys wholesaling?
Combining with the above key points of wooden toy wholesaling, you may know that it is not easy to become a wholesaler designated by many brand owners in the competitive toy market. So how did SabMatt do it? Please see the following 4 points.
1. Diversity of development
Parents usually prefer multi-functional toys to inspire children's diversity and SabMatt's wooden toys are able to provide both inspiration and historical value. They can also make consumers feel their purchases were good value for the money compared to other single-functional wooden toys, which is a significant advantage.
2. Collectible
SabMatt has a wide variety of wholesale wooden toys, such as the models in the theme of Da Vinci and medieval weapons. Apart from being interactive for children, the historical significance of these toys can also be told by parents, which makes them highly collectible.
3. Small size makes the toys easy for stockpiling
SabMatt's wooden toys are DIY assembling toys which are only small pieces of wood before assembling and simple to store. They do not take up space for owners who need stockpiling. Besides, easy for parents to carry when making the purchase is one of the elements that increase consumers' intention to buy.
4. Suitable for wide range of ages from old to young
In addition to the fun of assembling, SabMatt wooden toys have delicate appearances and are also loved by many adults. Just like Lego blocks, children and adults can both be immersed in the joy of playing and collecting, which makes our products more advantageous in wooden toys wholesaling.
SabMatt's wooden toys help you attract a wide range of customers
After reading the above content, I believe that everyone can understand the advantages brought by SabMatt's toys. Besides bringing children a variety of enlightenment, the durability and collection value of toys are highly attractive to adults and children. This is also the main reason why we recommend SabMatt for wholesale wooden toys.